The Upshot
Mid-sized commercial building owners will finally have access to a powerful time and cost-saving tool. As a result, they will save 5-25% of the millions they currently spend on utilities. This can then be put back into programs for kids, elders, vets, community, and mission-driven services. CEL is leading a Department of Energy-funded project with 14 WA, CA, OR school districts. Cities, utilities, and states have set ambitious energy goals. With CEL's Easy Does It™, small to mid-sized commercial building owners can simply and affordably meet these goals. Easy Does It™ makes Model Predictive Control technology scalable and affordable through: automating data gathering; reducing model input error; and decreasing end-user friction when using building energy control software.
CLIMATE COMMITMENTS ARE SPREADING
Today, 19 states, plus the District of Columbia, and Puerto Rico, are targeting full decarbonization of their power sector. Climate ambition has spread across the country. Thirty-two states, as well as Washington, DC, and Puerto Rico, have set clean or renewable energy targets, as have 29 of the 50 most populated cities, and at least 65 electric utilities.

- Third Way, June 2021
PUBLIC SECTOR BUILDINGS STRUGGLE TO KEEP UP
CEL recently conducted research funded by WSU NSF i-corps. Through this research, we identified a critical problem in an important sector of the small and mid-sized commercial buildings market. Public sector buildings make up 28% of US commercial floorspace. Electricity consumption in these buildings is expected to increase 18% by 2040. In the meantime, aggressive energy and carbon reduction goals require building owners to slash energy use and carbon emissions. In some cases, they must cut consumption by nearly half.
Public sector building owners typically hold their own agencies accountable to such goals before requiring the private sector to comply (see the City of Seattle, WA as an example). Unlike the private sector, when a public CFO wants to finance large capital facility improvements, she will face many obstacles. Red tape, steep up-front costs, convoluted approval processes, contentious public comment periods, long payback timeframes, and disruptive installations will impact the ability to provide vital public services. This leads most public facilities, operations, and maintenance teams to either postpone or forgo upgrades completely. As a result, they run unoptimized equipment to failure or wait for the political will to pass the next bond measure.
An estimated 41 percent of [US K12] districts need to update or replace heating, ventilation, and air conditioning (HVAC) systems in at least half of their schools, representing about 36,000 schools nationwide that need HVAC updates.
- United States Government Accountability Office Report to Congress, June 2020
The sector is ill-prepared for its own growing energy demands if large upgrades are the only solution.
ENTER SMARTER BUILDING CONTROLS
But there is something the public can do. Of the 40% of greenhouse gas emissions that come from buildings, 70% are from building operations. Most of these come from building energy use, primarily heating and cooling. Pacific Northwest National Laboratory's work showed that with proper installation of building controls, commercial buildings could save 29% of energy use. Likewise, schools could potentially save 49%. The good news is that by adopting controls, building owners can change when and how much energy a building uses. This reduces overall energy usage and carbon emissions.
However, only 10% of commercial customers currently use building automation and controls. These customers typically must hire engineers to manually program rules-based settings into the software. Unlike most small building owners, wealthier building owners can afford a powerful, customized solution. Dynamic Model Predictive Control (MPC) runs on top of a building controls system to meet multiple competing objectives. Such systems autonomously and flexibly manage energy and shape electricity demand within occupant constraints. MPC controllers rely on dynamic building models to predict and continually optimize building control actions.
Off-the-shelf and low-cost sensing and edge computing have made integrating MPC into building automation software an attractive alternative. Still, there has not been widespread implementation of MPC outside of wealthy corporate buildings. This is a result of the effort, expense, and expertise required to set up the model.  In the meantime, you can't throw a rock without hitting a building entrepreneur promising a "black box" machine learning solution to this problem. Dig a little deeper and you will find that such solutions are data hogs, come up with odd conclusions that can jeopardize occupant comfort, and have a difficult time generalizing from a single zone in a building to other zones or types of buildings.
Easy Does It ™ USES SMARTS TO LOWER COST
In light of this concern, CEL seeks a middle ground between the accuracy and rigor of MPC and the ease and affordability of "black box" control solutions. A typical building model can require 400-1000 inputs, some of which are critical to system accuracy and comfort. We aim to SUBSTANTIALLY reduce the number of inputs and the time required to collect them. We initially conducted a model input sensitivity analysis, documented a functional data architecture, and prepared a measurement, verification, and commercial development roadmap for a user-friendly data collection and model setup software application.
Stay Ahead Of The Game
Commercial building operators wanting to get ahead of escalating demand charges, energy costs, and electrification mandates should contact us to get on the waiting list for this or other pilots.
To get started, we collected data with our K12 pilot sites to create our MPC model, including manual inputs, equipment output data, and other automated sources of information (e.g., weather feeds). Our next objective was to determine how this data affects the MPC model used for the controls. This helped us understand which of the many inputs are essential for the quick and accurate operation of the model, which could be eliminated, and which alternatives could save time and cost without impacting accuracy.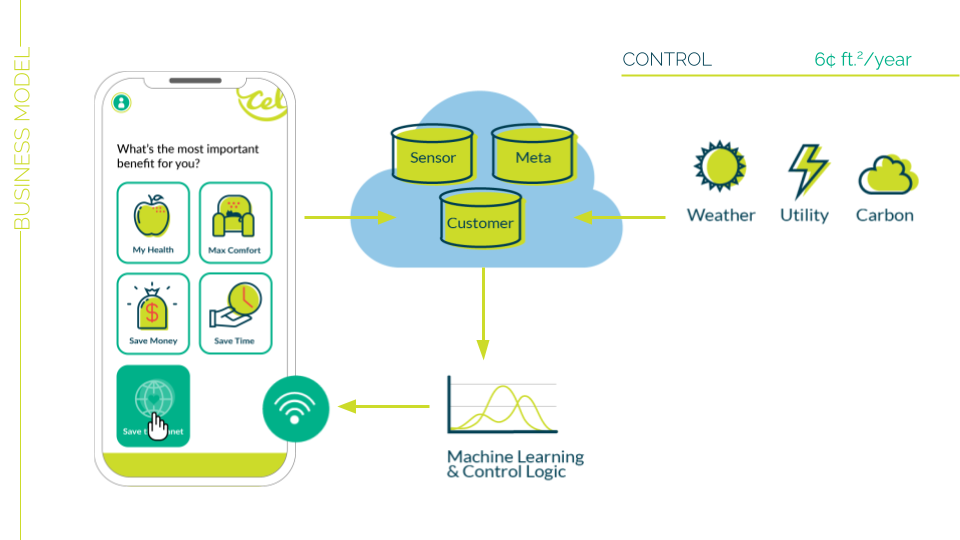 CEL extensively A/B tests methods, workflows, and user experience with our pilot partners, customers, and end-users - nearly all of whom have different underlying systems - from a handful of BAS platforms across their portfolio to simple programmable thermostats. As a result, our unique automation and calibration mechanisms have wide applicability to other commercial buildings. Our interfaces and workflows feed an MPC-driven smart building automation system in a way that's computationally efficient without requiring modeling expertise to collect data, set up, and calibrate. CEL's Easy Does It™ significantly reduces the efforts of building administrators from tens of thousands of dollars and weeks of effort to a few hours or days.  This saves money, but just as importantly it saves time and effort compared to standard MPC setup and calibration. Once installed, a single MPC can optimize for multiple objectives such as: 5-25% energy savings; 20-40% peak demand reduction; GHG emissions reductions; increased consumption of local or grid renewable energy.
Read more
Read an article in Utility Dive about the increasing role of utility rate designs in the energy transition.