The Upshot
CEL will be part of Elemental Excelerator's Cohort 11, which is focused on the urgent themes of climate resilience, zero carbon, and the built environment.
Elemental Announces its "Most Inventive Cohort Yet"
Elemental's Cohort 11 invests in technologies that are enabling system-wide decarbonization, helping communities become more climate resilient, and redesigning our built environment. Cohort members are zeroing in on hard-to-decarbonize industries like maritime and ports, buildings, and construction. They represent communities in the U.S., India, and Mexico.
Elemental calls the new cohort members "transformative teams working to redraw the big picture around our largest-emitting sectors, collaborate with frontline communities and infuse equity into their innovations." Elemental is supporting CEL and the 16 other members of Cohort 11 with capital investment as well as wraparound services to help us get to market faster.
We are so excited to be joining Cohort 11. Here's Tanya's face when she heard the news: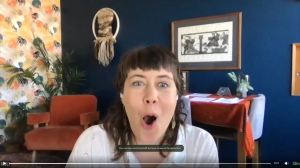 Founded in 2009, Elemental Excelerator's mission is to redesign systems at the root of our climate crisis. To that end, the nonprofit funds climate tech deployment and breaks down barriers to innovation. Cohort members are climate tech companies working at the nexus of climate change and social equity. This funding supports entrepreneurs as they tackle system-wide challenges and scales their impact. Elemental Excelerator fills two key gaps for companies:
capital for first-of-their-kind projects with the potential to change the world, and
investment into companies' growth strategies as they're about to hit key inflection points
What the full Cohort 11 announcement video here and check out some of the press around the announcement at the links below.
Thank you, Elemental Excelerator!