The Upshot
CEL is thrilled and honored to win the 2020 GoVertical Challenge. We are proud to serve the mission of making everyone a partner in the fight against climate change.
WE HAVE TO SPREAD THE WORD
With increasing awareness of climate change and its impact on our lives, it's probably no surprise that VC funding for #climatetech is on the rise. Nonetheless, cleantech innovations are technically complex, which has implications for speed to market and the pace of market growth. Therefore, many cleantech entrepreneurs find it challenging to present their ideas to audiences outside of the cleantech ecosystem. But we must venture outside the ecosystem. This is a critical time to build bridges between the cleantech and energy communities and a broader audience. CEL believes that our industry can and must extend itself in order to lead.
Climate change is affecting everyone. The need to communicate immediate and viable pathways to reverse it has never been more necessary. With that aim in mind, Jennifer Worrall and I (Tanya Barham) signed up for Madrona Venture Labs and TiE's GoVertical 2020 Challenge to see if we could get a group of entrepreneurs, hackers, investors and mentors interested in an idea about how to remove carbon from the built environment.
The Challenge: 3 Weeks to Demo Day!
The GoVertical StartUp Creation Workshop is a joint project between two of the Pacific Northwest's premiere technology innovation and investment incubators. Entrepreneurs with diverse backgrounds (business, software development and data science/technologists) apply for a chance to compete in the event.
Participants then pitch their own idea for a technology startup, focusing within Madrona's investment themes. From the 25 ideas pitched the audience chose their favorites, and six ideas advanced. This first one-minute pitch was also a chance to solicit other participants to join your team. There were a lot of really interesting ideas and entrepreneurs. Jennifer and I picked several teams that we would join if our idea was not selected. As the only #cleantech social venture pitching, we were thrilled when we learned that we had advanced.
THE TEAM
We then had three weeks to storm, norm, and perform (and make it look like we did it without breaking a sweat). The thing I love (and love to hate) about Hackathons and Startup Weekends is that they condense nearly the entire experience of running an early-stage startup into a very short window of time:
the way that, early on, potential co-founders and early teams have to prioritize ruthlessly on top of family and jobs
the mad scramble to align, re-align and re-re-align, in spite of different working, learning, and communication styles
the product innovations and MVP iterations driven by puzzled looks on mentors' and customers' faces during discovery
the late nights, direct conversations and cheers erupting when something actually works
the caring and generous mentors, helpers and other professionals who want you to succeed
For any of you #energynerds out there who have struggled to explain to your neighbor: how #thegrid works; why 100% renewable, carbon mitigation and building decarbonization are important; why specific technical ideas like "interoperability" even matter if we want to survive as a species... you know our pain.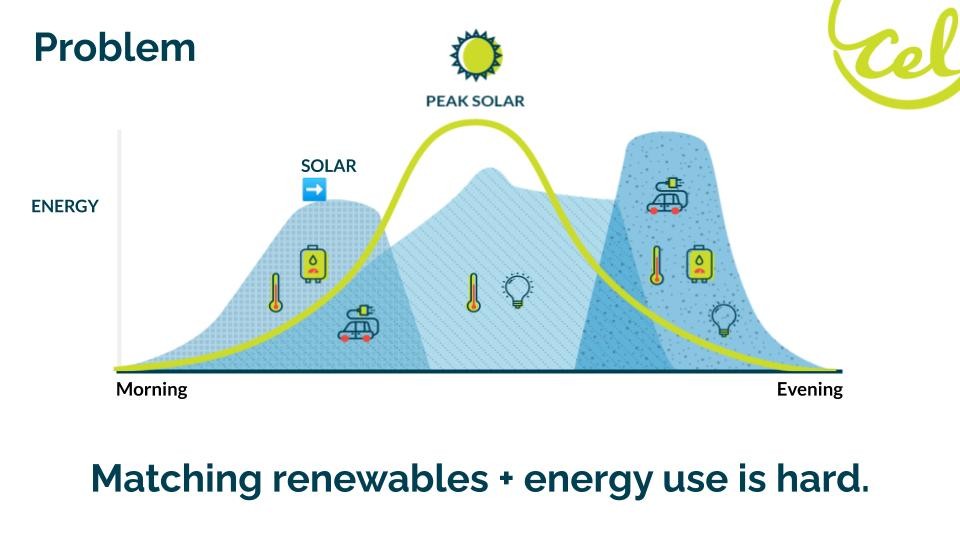 The CEL team (Jennifer Worrall, Ben Koala, Hayagriv Sridharan, Ruth Becke, and Eric Chan, along with supporters Alexander Ding, Rishi Shah, Melissa Hicks, and Micha Ramsey) put serious work into the preparation. For the pitch, they had to come up with an MVP design, a logical but compelling pitch that was accessible to a non-Clean Tech audience, and customer validation. But we did the work and it paid off.
THE GOVERTICAL CHALLENGE WIN
A whole host of very smart, impressive and inspiring founders and teams presented. We were humbled and blown away to win first place. Congrats to 2nd and third place winners Surya Vanka and Victoria Rodriguez and their impressive teams and to all of the other founders, hackers and hustlers (Himanshu Tayal, Justin Clegg, Palani Ramasamy) who worked extremely hard on top of their already full plates to deliver informative, interesting and impactful demos.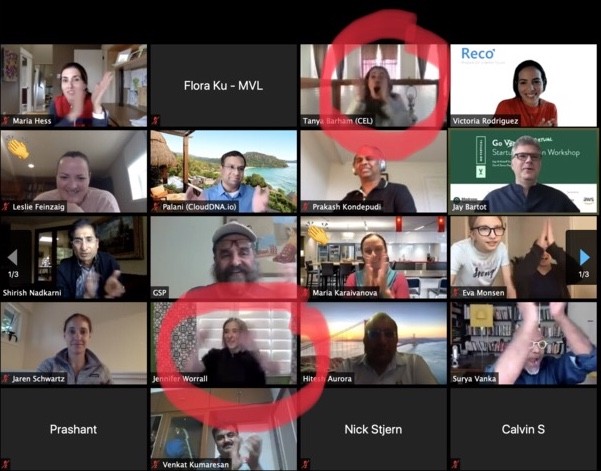 That face you make when you just found out you won! Sadly, this photo didn't capture Ben and Ruth's video tiles, but we think you get the picture.
A million thanks to some amazing mentors and judges who gave their time so generously to help us improve: Mona Akmal, Leslie Feinzaig, Maria Karaivanova, Jaren Schwartz, Prakash Kondepudi, Liz Pearce, Satbir Khanuja, Dinesh Chahlia, Elisa La Cava, Maria Hess, Sanket Akerkar, Shirish Nadkarni, Jay Bartot, Maria Hess, Jason Flateboe, and Flora Ku.
Postscript
Hilariously, our live demo at the GoVertical Challenge gave users the ability to control a light as a simple way to illustrate the concept of model-based predictive control in buildings. I thought I had revoked access to the API key that allowed the demo. But when I got to the 'office' this morning...