CEL PILOTS Easy Does It™
With CEL's Easy Does It™, mid-sized commercial building owners will finally have access to a powerful time and cost-saving tool. As a result, they will save 5-25% of the millions they currently spend on utilities. This can then be put back into programs for kids, elders, vets, community, and mission-driven services. With funding from the Department of Energy, CEL is leading a project with 14 Washington, California, and Oregon school districts. Cities, utilities, and states have set ambitious energy goals, and Easy Does It™ will enable small to mid-sized commercial building owners to simply and affordably meet these goals. Easy Does It™ makes Model Predictive Control (MPC) technology scalable and affordable by automating data gathering, reducing model input error, and decreasing end-user friction when using building energy control software.
CEL recently completed Phase I of the Easy Does It™ pilot with 11 west coast school districts. The pilot found that Easy Does It™ can reduce data collection time by 17-38% and reduce customer onboarding costs by 50%, all while maintaining the accuracy of the resulting MPC. Read on to learn more about the pilot's purpose, methods, and findings.
Easy Does It™ USES SMARTS TO LOWER COST
CEL seeks a middle ground between the accuracy and rigor of MPC and the ease and affordability of "black box" control solutions. A typical building model can require 400-1,000 inputs, some of which are critical to system accuracy and comfort. We aim to substantially reduce the number of inputs and the time required to collect them. We initially conducted a model input sensitivity analysis, documented a functional data architecture, and prepared a measurement, verification, and commercial development roadmap for a user-friendly data collection and model setup software application.
Stay Ahead Of The Game
Commercial building operators wanting to get ahead of escalating demand charges, energy costs, and electrification mandates should contact us to get on the waiting list for this or other pilots.
To get started, we collected data with our K-12 pilot sites to create our MPC model, including manual inputs, equipment output data, and other automated sources of information (e.g., weather feeds). Our next objective was to determine how this data affects the MPC model used for the controls. This helped us understand which of the many inputs are essential for the quick and accurate operation of the model, which could be eliminated, and which alternatives could save time and cost without impacting accuracy.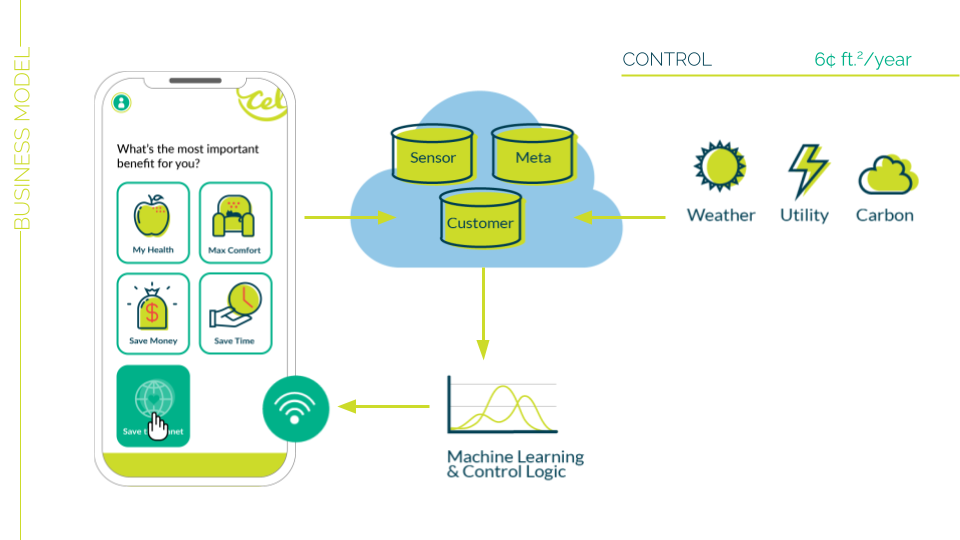 CEL extensively A/B tests methods, workflows, and user experience with our pilot partners, customers, and end-users—nearly all of whom have different underlying systems—from a handful of BAS platforms across their portfolio to simple programmable thermostats. As a result, our unique automation and calibration mechanisms have wide applicability to other commercial buildings. Our interfaces and workflows feed an MPC-driven smart building automation system in a way that's computationally efficient without requiring modeling expertise to collect data, set up, and calibrate. Easy Does It™ significantly reduces the efforts of building administrators from tens of thousands of dollars and weeks of effort to a few hours or days. This saves money, time, and effort compared to standard MPC setup and calibration. Once installed, a single MPC can optimize for multiple objectives including 5-25% energy savings, 20-40% peak demand reduction, GHG emissions reductions, and increased consumption of local or grid renewable energy.
PHASE I PILOT DEMONSTRATES ACCURACY AND TIME AND COST SAVINGS
In Phase I, CEL recruited 11 west coast school districts (ten K-12 and one university). The pilot determined the feasibility of reducing the time and expertise necessary for accurate MPC prediction and control. We found that combining alternative collection methods proposed in Easy Does It™ could reduce data collection time by 17-38% (5-32 hours) compared to a baseline, depending on the building size. Easy Does It™ also has the potential to reduce customer onboarding cost by 50% without impacting the accuracy of the resulting MPC. Preliminary results using time-series data from thermostats promise to eliminate manual calibration and model tuning. This further reduces the amount of expert time necessary to make MPC a reality for SMSCBs beyond Phase I.
Specific objectives and outcomes for this Phase I pilot were as follows:
Objective 1
Conduct a model parameter sensitivity analysis that considers time-cost and the impact of automation. Define a functional data architecture for integrating Easy Does It™ interfaces and workflows with CEL's control platform and gray-box MPC controls applications.
OUTCOMES
We reduced model input requirements from 435 to 83 parameters and applied a novel, BRICK-compliant data backend which yielded significant time and cost savings as well as data relationships that could lead to additional automation and savings in time.
Objective 2
Complete A/B testing of data collection workflows in a K-12 school with a non-engineer as the implementer, analyzing collection time, cost, effort, and accuracy.
OUTCOMES
We completed end-to-end data collection and field validation of the baseline and alternative workflows for nine of the eleven campuses recruited (four elementary schools, four high schools, and one private school) across three different climate zones. Some schools consisted of multiple buildings and systems.
Objective 3
Draft a proposed roadmap for an Easy Does It™ commercial prototype including simulation and Phase II field demonstration that links at least two hybrid gray-box MPC structures and uses real-world data. Include an M&V plan for EDI+MPC integrations that assures outcomes are physically feasible, scalable, and financially attractive compared to conventional feedback controllers.
OUTCOMES
We collaborated with experts from LBNL and NREL to evaluate four gray-box MPC structures. Working with the University of California Berkeley's Center for the Built Environment and K-12 schools, we also examined real-world data in schools. We selected at least six campuses in California and five campuses in the US for Phase II simulation and field demonstration of EDI+MPC. Finally, we defined and scoped a Phase II M&V plan.
NEXT UP: DELIVERING AFFORDABLE, SMART CONTROL FOR SMSCBs
The Department of Energy's Small Business Innovation Research program was recently reauthorized, and with it came exciting news for CEL: we received SBIR Phase II funding! This award will help us test, replicate, and scale our technology.
In Phase II, we will bring to market a scalable building energy control platform using a novel approach to MPC technology. Our approach decreases the installed cost and complexity of MPC control, serving SMSCB owners by making advanced energy management feasible. This will help our customers reduce energy costs, carbon emissions, and complexity from time-varying utility prices. It will also minimize the required expertise, time, and cost to set up and instantiate an MPC controller.
We are under contract with five energy providers (Southern California Edison, Silicon Valley Clean Energy, Tacoma Power, Energy Northwest, and an EPRI consortium of utilities) to test our first proof of concept with school districts in California, Oregon, and Washington. These collaborations represent nearly 700 school districts and commercial customers that could purchase a subsidized version of our commercializable product through energy providers.
During Phase II, CEL will validate scalable MPC technology and establish its replicability among over 13,720 other schools, community colleges, and universities in California, Oregon, and Washington who will all be subject to building codes that in some cases will levy penalties by 2026 for non-compliance. Our objectives are: To create a fully functional software prototype alpha for Easy Does It™; To test the prototype through simulation and in field demonstration; and To integrate the Easy Does It™ prototype with CEL.
We're excited to share our progress with you. Keep an eye on this page for more updates!