CEL PILOTS Easy Does It™
Across the country, cities, utilities, and states have set ambitious energy goals. CEL's Easy Does It™ will allow small to mid-sized businesses to simply and affordably meet these goals. With Easy Does It™, customers will finally have access to a building energy management system that will save them time and money. Funding from the Department of Energy enabled CEL to lead this pilot project in partnership with 11 Washington, California, and Oregon school districts. With Easy Does It™, these customers will save 5-25% of the millions they currently spend on utilities. This can then be put back into educational programming and mission-driven services.
Easy Does It™ uses a technology called dynamic model predictive control or, as our customers call it, "the robot." The project makes this technology scalable and affordable. It does this by automating data gathering, reducing model input error, and improving the experience for end users. CEL recently completed Phase I of the Easy Does It™ pilot with 11 west coast school districts. The pilot found that Easy Does It™ can reduce data collection time by 17-38% and reduce customer onboarding costs by 50%, all while maintaining accuracy. Read on to learn more about the pilot's purpose, methods, and findings.
Easy Does It™ USES SMARTS TO LOWER COST
Currently, building energy management systems come in tailored "white-box" models that require substantial expertise and funding or in cheaper "black-box" models that require massive amounts of data and time to train. This means customers are faced with two options. They can shell out money they do not have for expensive, tailored solutions, or they can dedicate staff hours they do not have to wrestling with spreadsheets and constantly fiddling with thermostats.
Easy Does It™ provides a third option. A typical building model can require 400-1,000 inputs, some of which are critical to system accuracy and comfort. We aim to substantially reduce the number of inputs and the time required to collect them while reducing costs for customers and maintaining model accuracy.
Stay Ahead Of The Game
Commercial building operators wanting to get ahead of escalating demand charges, energy costs, and electrification mandates should contact us to get on the waiting list for this or other pilots.
To create our robot, we worked with our pilot sites to collect data including manual inputs, equipment output data, and other automated sources of information (e.g., weather feeds). We then determined how this data affects the robot. This helped us understand which of the many inputs are essential for the quick and accurate operation of the robot, which could be eliminated, and which alternatives could save time and cost without impacting accuracy.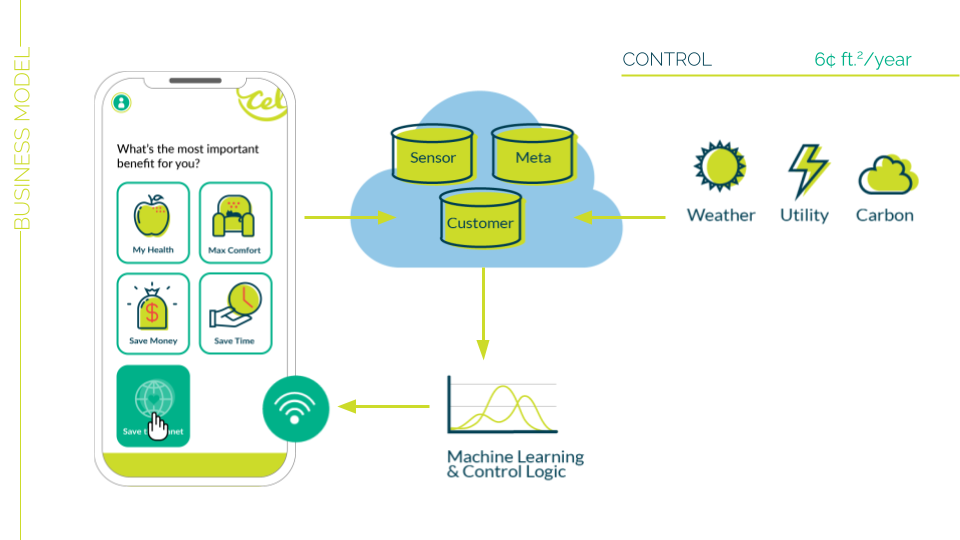 We conducted extensive testing with pilot partners, customers, and end-users implementing a variety of underlying systems. Because of this, our unique automation and calibration mechanisms have wide applicability to other commercial buildings. Our interfaces and workflows are efficient without requiring modeling expertise to collect data, set up, and calibrate. Easy Does It™ significantly reduces the efforts of building administrators from weeks of effort to a few hours or days. This saves money, time, and effort compared to standard systems' setup and calibration. Once installed, our robot can optimize for multiple objectives including 5-25% energy savings, 20-40% peak demand reduction, GHG emissions reductions, and increased consumption of local or grid renewable energy.
PHASE I PILOT DEMONSTRATES ACCURACY AND TIME AND COST SAVINGS
In Phase I, CEL recruited 11 west coast school districts (ten K-12 and one university). The pilot determined whether CEL's robot could reduce the time and expertise needed for accurate prediction and control of a building's energy usage. We found that combining alternative collection methods proposed in Easy Does It™ could reduce data collection time by 17-38% (5-32 hours) compared to a baseline, depending on the building size. Easy Does It™ also has the potential to reduce customer onboarding costs by 50% without impacting accuracy. Preliminary results promise to eliminate manual calibration and model tuning, further reducing the amount of expert time necessary to make CEL's robot work for our target audience.
Specific objectives and outcomes for this Phase I pilot were as follows:
Objective 1
Conduct a model parameter sensitivity analysis that considers time-cost and the impact of automation. Define a functional data architecture for integrating Easy Does It™ interfaces and workflows with CEL's control platform and gray-box MPC controls applications.
OUTCOMES
We simplified data collection by reducing the number of parameters the robot requires from 435 to 83. We also applied a novel data backend that led to significant time and cost savings, as well as data relationships that could lead to additional automation and savings.
Objective 2
Complete A/B testing of data collection workflows in a K-12 school with a non-engineer as the implementer, analyzing collection time, cost, effort, and accuracy.
OUTCOMES
We completed data collection and field validation of the baseline and alternative workflows for nine of the 11 campuses recruited (four elementary schools, four high schools, and one private school) across three different climate zones. Some schools consisted of multiple buildings and systems.
Objective 3
Draft a proposed roadmap for an Easy Does It™ commercial prototype including simulation and Phase II field demonstration. Include a Measurement & Verification plan that assures outcomes are physically feasible, scalable, and financially attractive compared to conventional feedback controllers.
OUTCOMES
We collaborated with experts to evaluate various structures for our robot and examine real-world data in schools. We selected at least six campuses in California and five campuses elsewhere in the US for Phase II simulation and field demonstration. Finally, we defined and scoped a Phase II Measurement & Verification plan.
NEXT UP: DELIVERING AFFORDABLE, SMART CONTROL FOR SMSCBs
CEL has now received Phase II funding through the Department of Energy's Small Business Innovation Research program to continue building on the success of our Phase I award.
In Phase II, we will bring to market a scalable building energy control platform. Our approach decreases the installed cost and complexity of existing solutions, serving schools and other small to mid-sized organizations by making advanced energy management feasible. This will help our customers reduce energy costs, carbon emissions, and complexity from time-varying utility prices. It will also minimize the required expertise, time, and cost to set up and instantiate a building energy management solution.
We are under contract with five energy providers (Southern California Edison, Silicon Valley Clean Energy, Tacoma Power, Energy Northwest, and an EPRI consortium of utilities). With these partners, we'll test our first proof of concept with school districts in California, Oregon, and Washington. During Phase II, we will validate our technology and establish its replicability among over 13,720 other schools, community colleges, and universities in California, Oregon, and Washington who will all be subject to building codes that in some cases will levy penalties by 2026 for non-compliance.
Our Phase II objectives are:
To create a fully functional software prototype alpha for Easy Does It™
To test the prototype through simulation and field demonstrations
To integrate the Easy Does It™ prototype with CEL.
We're excited to share our progress with you. Keep an eye on this page for more updates!